20 Questions for La Liga's Action-Packed April, Part 4 (Teams 5-1)
5. Villarreal – Defensive stability or just plain boring?
Villarreal have been one of the most consistent teams in La Liga over the last 15 years and "the Yellow Submarine" established itself as the place to revitalise the careers of mercurial talents like Diego Forlan, Juan Roman Riquelme and Giuseppe Rossi. Moreover, the club has also done a wonderful job of developing young talent into world-class players such as Diego Godin, Santi Cazorla Marcos Senna, Luciano Vietto or Eric Bailly and selling them for a combined profit north of 50 million pounds must not have hurt either. That's not to say that every transfer decision has worked out, as the cases of Borja Valero, Jozy Altidore, Cristian Zapata, Jonathan de Guzman prove otherwise. Whilst Villarreal are not pushing for the title, they are a decent bet to make life difficult for the Champions League place contenders, and you can get very good odds on them over at Bet 365. Of course, you can also play Pink Panther at bet365 which will help you pass the remaining days before the league action kicks off again.
So it must have been a massive surprise to the El Madrigal faithful that their team, which has finished in the top eight for eight straight years got relegated at the end of the 2011\12 campaign. Club president and billionaire Fernando Roig, who is described as one of the best owners in La Liga didn't seem overly concerned and viewed it as a quick retooling opportunity and invested even more into his beloved club, including building a new training complex! With the appointment of Marcelino, the club sat mid-table in the Segunda Division but catapulted quickly into La Liga after gaining 77 points and finishing second. In the next two seasons, Villarreal amassed 59 and 60 points and finished sixth both times. While the first season under Marcelino saw them score and concede a tonne of goals at 60 to 44, the next one would be an indication of the way they were going to play: 48:37 in 2014\15 was followed by 44 and 35 and the 64 points was good enough for fourth place! (Sure, they were 24 points behind third place Atletico, but's sort of beside the point here). Things, however, were not all rosy in the small town an hour away from Valencia and the rumblings about Marcelino's difficult personality (clashes with Matteo Musacchio and the board were mentioned) and perfectionism made the situation eventually so unbearable that the manager was sacked just days before they were to play Monaco in the Champions League qualifiers!
The Fran Escriba era began amidst ridiculous injury worries (Roberto Soldado tore his ACL among others) and they lost to Monaco 2-1 with just 12 players available. They also failed to win their first league games and were sitting just twelfth.
Since then they have racked up 46 points in 26 matches with a superb 38 and 19 goals for\against ratio, the latter doubling the best defensive mark in La Liga. The advanced metrics show a team that actually has a negative shot difference (11.2 for vs 12.5 against) and is over performing their expected goal difference by TWELVE! Sure, some of that is due to the magic of Sergio Asenjo in goals, whose eleven clean sheets is tied with Marc-Andre ter Stegen for the league lead, albeit in two fewer games! Looking across the top 5 European leagues, Asenjo is right up there in the Pantheon of European goalies alongside Manuel Neuer and Gianluigi Buffon with a minuscule 0.64 goals per match allowed!
The defence should also get all kinds of credit as supported by these two spectacular stats: 1. just ten goals allowed from open play and 2. opponents needing 17 shots on average to score against Villarreal.
Their offense which early on was built on Alexandro Pato, who has since been sold to China for a tidy 12 million profit, has kept up its end of the bargain with a 12% expected goals per shot ratio, thanks to a collective effort from the two Italian big summer transfers: Nicole Sansone who has only one of his team-best seven goals in the new year and Roberto Soriano who has scored two of his six since March 1st. Cedric Bakambu who terrorised defences last year with 21 goals combined in La Liga and Europa League is slowly regaining form after a long spell away at the African Cup of Nations with Congo. In the fall, Manu Trigueros was probably the team's most outstanding player in midfield together with Bruno Soriano who also chipped in with three goals from the other holding midfielder role. With the club being tied with Real Sociedad and ahead on goal difference, thanks to the San Sebastian outfit losing two in a row, the next three matches against Eibar, Betis and Athletic will be crucial if the Yellow Submarine are to keep their sixth spot!
4. Atletico – "Should I stay or should I go now?"
Diego Simeone and Atletico Madrid have gone through a turbulent season full of ups and downs. It all began when the rumours of a Diego Costa return almost came to be realised in the summer. The lows have included two early season draws versus two newly-promoted teams followed by a high with a 17-2 romp in five games that catapulted los Colchoneros to the top of La Liga. A close loss to Sevilla was followed by a 4-2 beating of Malaga, but two losses to Sociedad and Madrid by a 5-0 aggregate, as well as 3-0 thrashing by Villarreal, meant that Atleti were in fifth after 15 games, which equalled the lowest finish in the Simeone area. Moreover, Jan Oblak's shoulder injury was salt in the wounds, as the Slovenian keeper had to leave the match versus Villarreal and would not return until late February. However, the team has done what they do best when their proverbial backs are against the wall and with a little help from backup Miguel Angel Moya keeping five clean sheets in nine games turned its season around.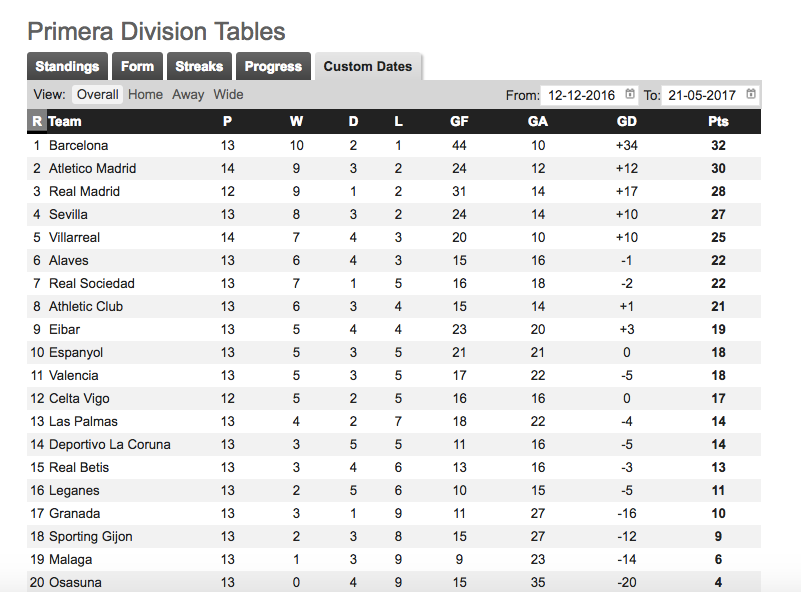 Antoine Griezmann scored eight in those 14 matches and the defence allowed just 12 goals, and suddenly Atletico were doing Atletico things. Since they have also dispatched Bayer Leverkusen in the Champions League and have gone through to their fourth consecutive UCL quarterfinals, where they are probably thrilled to be facing off versus Leicester City. In many ways, it's the same old Atletico, where Oblak saves just about everything, Godin and Savic suffocate opposing forwards, while the league's best left-back Filipe Luis continues to do crazy things like rank fourth in the league with 2.4 successful dribbles per match. Sime Vrsaljko has taken some minutes from Juanfran at right back. In the middle, Koke leads the team with 2.1 key passes, while Gabi still tackles anything that moves and I'm happy to report that he is still on pace with seven yellows to reach double digits for the seventh year in a row!
40 open play goals is a lot compared to 47 all of last season, and especially to the 29 of the 2014\15 season and a lot of that has to do with the wealth of attacking talent that Simeone arguably doesn't really get enough credit for developing: Yannick Carrasco has eight league goals in 1700 minutes at age 23, while two 22-year-olds Angel Correa and Saul Niguez contributed with five goals and six assists combined. Veteran attackers like Fernando Torres (five goals)and the two big summer signings, Nico Gaitan (three) and Kevin Gameiro (ten goals, five assists despite getting a lot of criticism) have played 3000 minutes and produced excellent returns. With Sevilla undergoing a rough patch and losing to Atletico 3:1 on the last matchday, Simeone and co have a great shot at making the podium again in what's the club's last season at the Vicente Calderon.
3. Have Sevilla run out of gas?
Remember a month ago when Sevilla were (deservedly) lauded as the darlings of Spain and the most exciting team in the world by the great Tom Payne on the Ringer? We were smack in the midst of Jorge Sampaoli being showered with praise for building a beautifully efficient, yet attractive footballing machine led by the rejuvenated Samir Nasri and the imperial Steven N'Zonzi! The performances of those players and countless others were also a testament to Monchi, who has been the premier sporting director in world football. So it was fitting that when in mid-January they even ended Real Madrid nearly year-long unbeaten streak, a winter signing, Stevan Jovetic would go on to score a cracking winner from distance. They've been a decent team since then: winning five matches and drawing three while losing twice, with one loss coming against Espanyol when Nico Pareja was sent off in the second minute and the other on MD 28 vs. a rising Atletico squad. The goalless draw against Villarreal saw Nasri miss a penalty and is forgivable, but draws against Leganes and Alaves (who won the shots battle 18 to 8) are less explainable, even if Sampaoli was rotating the defence quite regularly. There are a couple of theories as to what has gone wrong and it's probably beyond the scope of this piece to answer the question, but here are some potential reasons:
-the electric offence that needed under six shots to score a goal has slowed considerably, as Nasri and Wissam Ben Yedder (just one goal since January 8th) have lost their form. On the other hand, Vicente Iborra has scored five in that span, tying his career-high, and becoming the club's second best goalscorer on the season. Joaquin Correa, Stevan Jovetic and Pablo Sarabia have each contributed two in that span, but Luciano Vietto, Franco Vazquez and Vitolo are sharing just one goal among them.
-14 players have played over 1000 minutes and that doesn't include Stevan Jovetic, who is the only Sevilla player that takes more than two shots per game.
– In those ten games, shot volume was at 11.8, so almost at the Sevilla season average of 12.1. But with just 4.1 of those shots ending up on target, Sevilla were 20% below their season average of 4.9, even with the caveat that they faced Bilbao, Atletico and Leganes who are the three stingiest defence with sub 4 shots on targets allowed!
Yet, all is not lost for los Nervionenses who still face the bottom three teams all at home for what should be an automatic nine points. In addition, home games against Celta Vigo and Deportivo are eminently winnable, as is the trip to Malaga, especially for a team that has the third best away record in the league! Sure, the trips to the Camp Nou and the Santiago won't be a cakewalk, but when you consider that Atletico also play Real, Leicester twice before hosting Osasuna in a span of ten days, it doesn't look all that bad for Sampaoli's guys!
2. Has this been the weirdest Barcelona season in recent memory?
Barcelona are just two points behind Real Madrid. Barca have also played a game more than Real. Barcelona have scored the most goals in the league with 81 and allowed the third fewest with just 25 and also sport a + 35 expected goal difference. Barcelona have the lowest XG per 90 and allow the fewest shots per game with just 9.3. FCB are also on pace to ship 34 goals the most since 2012\13. The Blaugranas have won six of the last nine titles. Barca are on pace to take fewer than seven shots on target for the first time since the 12\13 campaign. Lionel Messi leads the league with 25 goals and is projected to score 34 this season. Luis Suarez who scored 40 is second with 22 and is projected for 30. After a breathtaking last season with 24 goals and 12 assists, Neymar is on just 8 goals and 10 helpers. Neymar is averaging 5.4 successful dribbles this season compared to 4.2 last year, while also having the same amount of key passes at 3.1 per match. He is being fouled 4.4 times per match, up from 3.8 the year before. Barcelona have lost to PSG 4-0 in the knockout phases of the Champions League. With three goals after the 88th minute, Barca have also engineered the greatest comeback in that tournament's history, thanks to some magic from Neymar and Sergi Roberto. This year's Barca goalie Marc-Andre ter Stegen has made 81 saves, which ranks as the seventh-highest in the league. Last year, Claudio Bravo made 86 all season. The German has already made more saves in the penalty area with 43 than the Chilean had to make last year with 41. The team's possession rate is down to 62.4%, the lowest in ten years. Barca lead la Liga with 57 open play goals, the second place team has 45. Andres Iniesta and Sergio Busquets have not scored this season. Barca are on pace to break the 100 goal mark for the sixth year running. Paco Alcacer, Arda Turan, Andre Gomes and Denis Suarez have cost a combined 90 million pounds and have yielded seven goals and seven assists, the same as Rafinha and Sergi Roberto combined. Luis Enrique has announced his decision to leave midseason. The team went on to win its next three games with a combined score of 17 to 2. They lost the next game to struggling Deportivo La Coruna. They are still unbeaten whenever Samuel Umtiti starts a game. If you know what happens next, you should definitely consider a future in fortune telling, or related to the stock market…..
1. Would Real be a worthy champion (by default)?
Having described the league in detail, and exhausted the other options (a floundering Atletico, a Sevilla side that might've thrown any remains of its chances away in a ten day period, the enigmatic Barcelona) are Real Madrid the best team by default?
Well given that they're yet to drop below third and have a two or five point lead (depending on the game in hand) and have eerily similar advanced stats to Barca, there's a very good case.
Additionally los Merengues were unbeaten in their opening 16 games until a late Jovetic strike brought that to an end.
And it's not like they have slacked off since then, as Madrid have taken 25 points in the last eleven games, the same as Barcelona who lead the league in that time period. They have arguably the deepest team in the league with six players with six or more goals and 18 in total have found the back of the net in the league! Sergio Ramos has scored seven himself, including too many key late goals to mention. There are also seven guys with four or more assists, led by Toni Kroos, who has connected with the aforementioned Ramos on five of his ten helpers! Cristiano Ronaldo is averaging 5.7 shots per contest and 75% of those shots are from inside the box, yielding 19 goals altogether in just 22 appearances.
It's staggering stuff when you consider that only three players have played over 1800 minutes, with Keylor Navas being one of them. Each position has two world-class players, though don't mention that to Cristiano!
Karim Benzema and Alvaro Morata combined for 16 goals and 5 assists on 4.5 shots per game at centre forward. Gareth Bale has seen just 1200 minutes of action due to injuries, while Lucas Vazquez has played 1000 and already has assisted on four goals. James Rodriguez and Isco have racked up 8 goals and 10 assists in a combined 2000 minutes with 20 starts and 16 sub appearances. Poor Marco Asensio, who tore it up for Espanyol and for Zidane in the preseason has to wait two months in between starts. Toni Kroos and Luka Modric is probably the best double pivot pairing in the world, and the only think keeping Mateo Kovacic out of the starting lineup, though the young Croat would walk into almost every other starting XI. Casemiro leads the league with 5.1 tackles per game and is scoring long-range volleys for fun.
In the back, Sergio Ramos can choose between the quietly excellent Nacho, EURO 2016's best defender Pepe, or Raphael Varane, all of whom have logged between 950 and 1600 minutes. On the wings, Marcelo and Daniel Carvajal might be the two best fullbacks in the world, and Danilo is a great replacement. Perhaps Fabio Coentrao is the only other player on the roster who wouldn't be considered a steady starter on most other La Liga teams, and he can at least blame his extensive injury history, though not his driving skills for that.
Naturally, Florentino Perez is always ready to upgrade the squad and Eden Hazard (because they really need another world-class attacking player) and Thibaut Courtois (who actually would help a lot given Keylor Navas' howlers) are the two most-talked about candidates.
Last but not least, let's take a look at what the predictions say about Real's chances to win La Liga? On the conservative end, we have 11tegen11 giving los Blancos a 57% chance, while ESPN's 538 has them at 59%. GoalImpact's odds are 73% and Oddschecker also agrees.
Their next two games are against Alaves and Leganes, but the crucial part of the schedule will centre around the two week period where Real play five matches in 15 days: a home derby against Atletico is followed by a trip to Munich to see Bayern in the UCL quarters. Just three days later, Sporting Gijon are expected to see a heavily-rotated Madrid side, who face Bayern another three days later in the return leg. To cap it all off, el Clasico on Sunday night, April 23rd in the Bernabeu. I mean who would want to miss that?