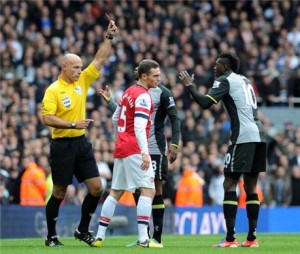 In the aftermath of Tottenham's 5-2 defeat to rivals Arsenal at Saturday lunchtime, Andre Villas-Boas was disappointed. Angry. Perhaps embarrassed at the way his team had collapsed in the manner of a mid-1990's England cricket team. So he looked at himself in the mirror (imagine there's a mirror even though there probably wasn't one), adjusted his collar and said to himself "I will lie to the press today!" over and over again.
I don't know if that happened but it's as good a guess as any as to how you can explain Villas-Boas's post match comments. He said that from 'first minute to last' Spurs had 'controlled the game'. Which is a true statement in the sense that 'Wayne Rooney is one of the world's most attractive men', 'Nick Clegg has never told a lie in his entire life' and 'the author of this article slept with Scarlett Johansson last night' are true statements that are in reality completely made up.
The Bearded One also said that Emmanuel Adebayor's sending off didn't change the game, which is also a statement so lacking in substance wartime propaganda would have thought twice about broadcasting that to its people.
While defending Adebayor is understandable as Villas-Boas tries to keep players on side, lying to the press is not. In an age where games are analysed so ruthlessly, talking complete nonsense to the press will not only be proved to be the rubbish it clearly is but also help nurture the press's stereotype of him as some sort of tactics nerd who has no idea how to manage a football club.
In his defence he may have been trying to take attention away from his team's defeat but right now Villas-Boas is in no position to bear the brunt of press pressure. In the modern game, unless you're a very successful manager (or Harry Redknapp), you can't get away with telling lies to the British press pack, something he should surely have learnt by now. All he has done is weaken his position and let himself be depicted as some sort of loon who's joined a wacky cult, while not taking a whole lot of focus off his team losing a local derby 5-2 for the second time in nine months.
The common sense thing to do would have been to attack Howard Webb for sending off Adebayor. It was the correct decision to send him off but in the past that doesn't stop the likes of Ferguson, Mourinho and managers who wished they were Ferguson and Mourinho blaming referees for their team's travails. This would have made Villas-Boas look stupid but not nearly as stupid as he looks right now.
As it is, he's now being mocked for his comments and was also criticised on the Sunday Supplement for crouching on the touchline, because a manager's touchline pose is obviously such an integral part to a team's success.
It's a shame in some ways he looks so daft now because tactically he got things spot on. Until Adebayor's red card Spurs were in control. They pressed with intensity, attacked with pace, scored a goal and weren't far away from scoring more. Pairing Adebayor and Jermain Defoe up front was proving to be an excellent decision as Arsenal struggled to cope with Spurs' high tempo.
After the red card, the way Spurs collapsed defensively was worrying in its inevitability. In the same fixture last season, in the FA Cup semi-final against Chelsea, in games before that against Inter Milan, Man United, Fulham and even Young Boys in the Champions League Spurs have lost all composure, panicked in the manner of a husband caught in bed with his mistress and given away lots of goals in a very short time. Those were with all eleven players on the pitch, so Saturday's game wasn't as bad per se, just bad in that mentally amongst players and fans everyone seemed to give in and accept their fate that Arsenal were going to score a hatful of goals as soon as they went down to 10 men.
Where Villas-Boas does deserve blame is for his team selection, namely picking William Gallas who's been an ever present this season in central defence as well as choosing Tom Huddlestone to play alongside Sandro in central midfield.
Gallas had a dreadful game, constantly out of position and regularly outmuscled by Arsenal's attackers. He's 35 years old and moved at times like a 65 year old recovering from a hip replacement against the nippy Arsenal forwards. Last season it was Ledley King who at the Emirates was sadly shown to no longer be able to play at a high level. On Saturday Gallas, despite his experience showed like King last season he's a backup at best and definitely shouldn't be starting (not for the first time this season either). Michael Dawson, a good but not great defender is a better alternative until Younes Kaboul, Steven Caulker and Benoit Assou-Ekotto return from injury.
Villas-Boas does have a caring, charitable side the press often don't see in him. In an act of great generosity he gives away a place in the team every week to someone who's just allowed to stand in the centre circle and enjoy the game going on around him. How else does Tom Huddlestone keep on getting picked?
As everyone knows, he isn't very mobile. His game is standing on the halfway line plonking passes to his teammates, not pressing opponents and hunting in packs with teammates to win possession back, which is what Tottenham central midfielders in Villas-Boas's system are supposed to do.
Huddlestone not only struggles to press opponents but he's been surprisingly poor in possession this season, giving the ball away constantly. Given this is the strength of his game it's worrying to see him become that bastion of Englishness – careless with the ball at his feet. Mousa Dembele can't come back quickly enough, a worrying situation given he's only played four games for Spurs.
Tom Carroll played with purpose when he came on for the last twenty minutes and has done well when selected in the Europa League. Though Villas-Boas was understandably not keen to have such an inexperienced player in a match of that magnitude, he is a better replacement than Huddlestone while Dembele continues to recuperate.
Those selections were wrong. But whether they cost Spurs the match is debateable. Villas-Boas isn't largely to blame, for all managers make wrong selections and even with those wrong selections they may well have won. What really did cost them is Adebayor stupidly getting sent off.
While his tackle wasn't horrific or especially dangerous, it was a definite red card and left his team playing 70 minutes with a 5 ft 5 marksman, ill-suited to playing up front on his own, playing up front on his own in the biggest game of the season so far.  He left his team in the lurch, is now banned for three games and will find fans and fellow players rather cross with him. Injuries, this suspension and the upcoming African Cup of Nations mean he'll have hardly played for Spurs well into the new year.
Villas-Boas isn't particularly to blame for yesterday's loss. He made errors in team selection, but his tactics before Adebayor's sending off and even the switch to a 3-5-1 at half time worked well. At 4-2 Spurs gave Arsenal a few nervy moments, especially when Bale could have made it 4-3 had he squared to the lurking Defoe instead of shooting at goal himself.
What decided the game was a needless red card, Arsenal taking their chances and Spurs long standing defensive frailties coming to the fore. It may be simplistic to say a red card changed the game, but in this case it is true. Mentally and on the pitch, Spurs's goose was cooked the second the red card left Howard Webb's top pocket.