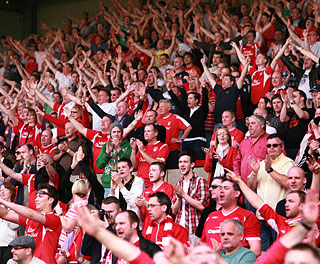 I watched the 2005 Champions League final with my buddy Andrew. Andrew is Scottish, so thus doesn't really care about football, instead preferring that darkest and most pious of arts, rugby union. As Liverpool scored once, twice, three times, Jerzy Dudek pulled off a miraculous/fluke save from Andriy Shevchenko then that penalty shoot-out, events escalated from unlikely to implausible to the outright insane.
Emotions were all over the place, even among two men with little or no connection to Liverpool. We both celebrated like they were our own successes, like we had lived every second, simultaneously wondering what, if we felt like this, millions of Liverpool fans were doing.
"This is the sort of game that makes me wish I followed football," said Andrew after the game.
"This is the sort of game that makes me wish I didn't support such a shit team," I replied.
Wounds were a little raw at that stage, because my darling Nottingham Forest had just reached a 50-year low by sealing their relegation to League One, therefore becoming the first team to have won the European Cup, then sink to the third tier of their domestic league. The season started under the shambolic guidance of Joe Kinnear, and ended with relegation under the utterly bloodless Gary Megson.
A low point was reached in a pair of games towards the end of the campaign, when Coventry's Dele Adebola skipped around our hapless defence with gay abandon, then in reaction Megson ripped the team up, threw a bunch of kids in to face Plymouth at home and lost 3-0.
Even then, as despair clouded my young judgement, I wasn't naive or miserable enough to think that Forest wouldn't be 'back'. They would rebuild, probably get a new manager and rise from this nadir soon enough, and although it took three years, that did happen. The trouble is, 'back' is a limited thing for fans of a certain type of club.
The Champions League final that year reminded me that, as football is now, there is a ceiling on the ambitions of all but the elite. Our expectations are restricted. We are forced to regard mediocrity as success, with most of us desperately aspiring to the heady heights of comfortable mid-table obscurity. We all know this is the case, and have done for a few years now, but it's still utterly dispiriting.
Even Newcastle, relatively recently Champions League regulars and title contenders, have been beaten into such a mindset that last season's fifth place was regarded as an outstanding, unexpected success. This of course was partly due to their relegation a couple of seasons before, but a club of their stature should not be deliriously happy with being the fifth-best team in the Premier League.
This is where the Americans have it right. Since the worst team in any one of their major sports leagues has the first pick in the following year's college draft, even the most dreadful side will pick up the best young players. Basically, to use their parlance, if you suck for a long time, eventually you'll get the players to stop sucking pretty soon. An example in baseball is the Washington Nationals, who were dreadful for years, then through the draft were able to select the best young batter (Bryce Harper) and best young pitcher (Steven Strasburg), and are genuine contenders for the World Series this year.
Obviously, this isn't in any way practical in football because of the way the sport is structured, but at least they have hope. Their system isn't perfect, and money can still dominate, but not to the same extent as it does over here. New contenders tend to be grown organically, whereas in football they only arrive when a Sheikh Mansour or Roman Abramovich arrives and chuck cash at the thing. It's so arbitrary.
Of course, a fan of Forest complaining about money could be stupid for a number of reasons, not least because there are hundreds of teams below us in the footballing food chain, and it is a complaint as old as time. And it doesn't stop us from showing up every week, because football isn't logical, but it must be a factor in people falling out of love with the game. Hope can be a terrible thing, but it can help maintain your interest.
It's not so much that the way money has taken over football has killed competition, it's that it has killed hope. We now dream of being OK, alright, decent, rather than being the best. And that's no way to live.
———-
Follow Nick Miller, Deputy Editor of Football365, on Twitter.