Manchester United Man #TC23 – The Mediocre Brand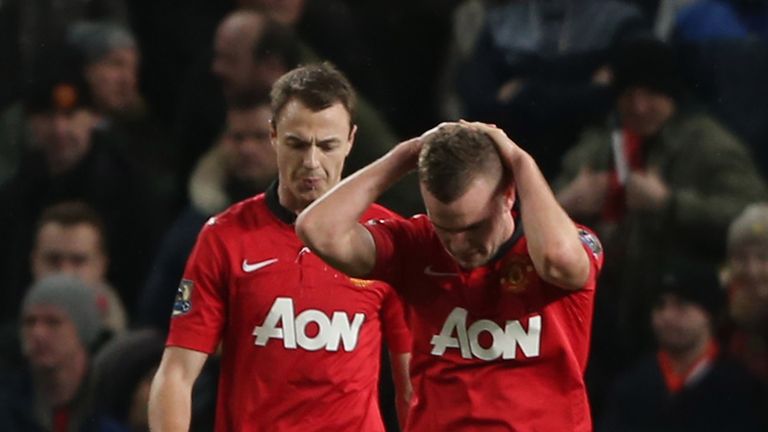 There comes a point in every season where a scapegoat is created at a football club and this individual is chastised as being the sole reason the club is not living up to expectations. Last year it was Tom Cleverley, the year before that it was Tom Cleverley and again this season it is Tom Cleverley.
Once the darling of Watford and Wigan and now the choir boy for Roy Hodgeson and David Moyes, it's a little strange as to why the football watching population can see something that two high profile managers can not. There was once a time when #TC23 looked like becoming the player that he wanted to be; a player of Spanish ilk having being conceived in the Basque region and playing for his home town club. It's quite apparent that Thomas is in fact not Spanish and does not possess the qualities he believes he does. The game was the Charity Shield match against Manchester City and his one touch football that lead to Nani's sumptuous goal had the media and twitter awash with excitement. Finally, as part of an oft-questioned midfield, there were two ball craving midfielders (the other being the pie loving Anderson) playing ahead of the quietly effective Michael Carrick. It would seem that this high point in his career was at no point surpassed let alone matched and the TC23 you see before you is the one that everyone feared existed.
There has been a strange timeline of events for TC23 this season, not in terms of his usage but more about the way he has conducted himself. He has been used 19 times out of a potential 27 in Manchester United's midfield more often than not alongside Michael Carrick. This would strike most as strange considering that this United team won the league and now under the stewardship of Moyes, there appears to be a distinct lack of creativity. With a grand total of zero assists this season and only 11 chances created, it seems that his 89% passing accuracy is what's keeping him in the side. Now to look at TC23 a little more closely, it's quite obvious that the reason this accuracy is so high is due to his love of passing back to the player who gave him the ball. This was very much like what Carrick was hated for when he played alongside Paul Scholes. Carrick's change in fortunes came about after Scholes retired and now when he isn't in the side there's always a worry. The same will never be spoken of with regards to TC23. Yes Carrick does not score very many goals, however his forward passing ratio, reading of the game and interception stats make him one of the first names on the teamsheet and is the very reason Spanish players speak of him and not Tom.
Tom once had a twitter account, it did not last very long. He was hounded so much and blamed for every Manchester United failing this season that he deleted his account. Sure he shouldn't have to receive such abuse but what is inexcusable is having such lofty ambitions and never attaining those heights. Often comparing himself to players in La Liga who get applauded for keeping the ball, he is just not that guy. Taking a closer look at that statement, you do not get applauded for retaining the ball as a player. That is your duty as a footballer. Spanish players get applauded for their ability to string a number of passes together that can get them out of trouble or create a goalscoring opportunity. Neither of these two abilities are on TC23's CV as there has probably not been a point where you would appreciate his excellent first touch or pin-point through ball. That is the inherent problem here, what is Tom's purpose on a football field as a midfielder for Manchester United? Every midfielder has a purpose right? He admits that he isn't going to dribble past players and score a goal or be a tough tackling midfielder so that, by powers of elimination, leaves a floating midfielder that always wants the ball like David Silva for example. For the sake of not going insane, TC23 is not David Silva. What is most infuriating about all of this is when Tom is angry at himself when he fluffs his line at an attempt at goal. (It's at the end of the video). What is he frustrated at exactly? That he isn't scoring as much as when he was at Watford in the Championship? This frustration occurs every few games and as shown below, Tom doesn't shoot very often so leaves many people perplexed.
There comes a point in every human being's career where he realises he is not up to the job. You know, when something is asked of you and you realise that you are just not good enough. In such a case 99% of these people take a look at themselves and take the required step down. However under the stewardship of a rule-breaker such as David Moyes, why would TC23 take a step down when, in reality, his mentor will never do the same.