There are indications that Oliver Giroud could return back from his long term injury earlier than expected. The 28 year old who recently agreed a two year contract extension with Arsenal was pictured in a gym in Cannes, France where he is working his way back to full fitness. He has done away with his crutches and is no longer in his protective boot. He has already spent six weeks in his recovery as the surgery to fix his fractured bone was carried out on 26 August.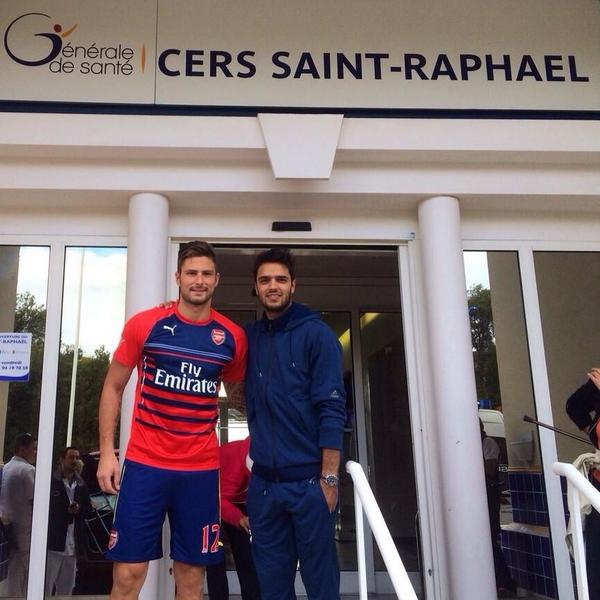 The injury happened back in the closing stages of the match against Everton on 24 August after he charged down a clearance from Sylvain Distin, resulted in a fractured tibia.
An early return for Arsenal's top scorer from last season would be a boost for the club, particularly as Arsenal have struggled in breaking down some difficult teams this season in which his physicality and ability to dominate centre halves would have come in handy just like he did in the match against Everton when he came off the bench to score the equalizer after Arsenal trailed by two goals at half time.
A picture of Oliver Giroud in Southern France, outside a gym is obviously a ray of good news within the Gunner Fandom when considered against the backdrop of the injury suffered by Mesut Ozil which is expected to keep him out for at least three months.
Arsenal's injury issues this season has gradually gone from the mild to the critical since the season started. From what started as an Achilles injury to Laurent Koscielny in the Community Shield, continued to a hamstring strain for Kieran Gibbs against Crystal Palace, then it took on the serious line when both Oliver Giroud and Mathieu Debuchy became sidelined for three months. Yet in between has been the calf and hamstring injuries suffered by Mikel Arteta and Aaron Ramsey respectively in September.
It has been a surreal injury situation for the club to date, when the picture pointed to a situation that it could not get any worse, which is what eventually happened with the news of Mesut Ozil's injury. Yet inside the grim picture of the news that has beclouded Arsenal's season, Oliver Giroud's recovery and being ahead of schedule in his comeback from injury becomes a grinner in the midst of all the solemn news.
With Theo Walcott and Serge Gnabry expected to join the fold for full training after the international break assuming there is no setback, there is still some good news to cling unto in the midst of the injury mire.