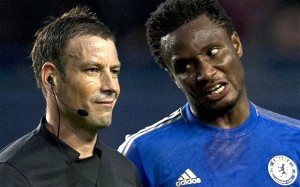 Following Sunday's match between Chelsea and Manchester United at Stamford Bridge, it emerged that the home team had made an allegation against referee Mark Clattenburg. As time went by, reports revealed that Chelsea were claiming Clattenburg called John Obi Mikel a "monkey" and Juan Mata a "Spanish twat". However, these players didn't hear this on the field, but were informed by their team mates who claimed they did hear it, David Luiz and Ramires. Neither of these players have a great grasp of English so there have been some suggestions that they misheard what the referee said, with it seeming inconceivable that an official would do such a thing, particularly with anti-racism awareness at a peak in football.
However, you would have thought it would be inconceivable that an England captain would racially abuse an opponent on the pitch too, before John Terry did it, so anything is possible. Whilst it seems highly unlikely that a referee would say the things he's been accused of, the situation has to be investigated appropriately and the truth needs to come out.
Everybody is entitled to an opinion and I would think even most Chelsea fans are struggling to get their head around the idea a referee abused two of their players. The likelihood is this is all one big misunderstanding, not that Clattenburg is guilty and not that Chelsea players have maliciously invented these accusations.
With the investigation still pending, Premier League managers have been asked their opinion on the situation. Whilst the most sensible response would be to refuse to comment or express the need to wait until the facts have emerged, the likes of Sir Alex Ferguson and Arsene Wenger have waded in offering their full support to Clattenburg, whilst also being critical of Chelsea for their handling of the situation.
"I don't believe he would make comments like that," said Ferguson. "I refuse to believe it. It's unthinkable. There is not a referee who would stoop to that. I'm convinced by that."
To give an opinion and suggest it is unlikely a referee would do such a thing is reasonable enough but to categorically rule out any possibility of it happening is wrong. If Rafael da Silva said he heard the referee call Ashley Young a "monkey" during Sunday's game, would Ferguson be saying the same thing? What would he make of Roberto Di Matteo dismissing the allegations out of hand without having any evidence to hand? Ferguson himself may think Rafael must have misheard and would likely try to deal with the situation in a more private way initially, but surely he would want the allegations to be investigated, and therefore believe there was a tiny possibility of it being true. Club bias should not dictate opinion on racial issues as the colour of someone's shirt has no impact on the truth.
Arsene Wenger has chosen to criticise Chelsea for their response to the allegation and believes the West London club should have solved the dispute behind closed doors.
"My opinion is that I prefer, when I didn't behave well, that I have an explanation with the referee at the end of the game, or on another day, than going public with little proof," Wenger said. "I'm not a great believer in making these stories public. One of the great things in sports is tolerance, forgiveness and explanation internally and I think it should stay like that. It can happen that a referee doesn't behave well. I do not say they are angels, but it is always better to sort it out in the room. My deep feeling is that I have not always completely behaved very well in this situation, because they are very heated situations. But I am a deep supporter of doing that [dealing with it] internally. For example, the last two nights were great adverts for football and that is absolutely fantastic. For the rest, I believe one of the great things in sport, as well is the battle when it is on in football, especially in England, is you can sort out the problems you had internally. If it becomes a sport to make the lawyers rich, I am not a fan of it."
If Chelsea Football Club believe that two of their players have been racially abused, why should they keep it quiet? When Patrice Evra walked off the pitch at Anfield last year he was immediately interviewed by French television and revealed what Luis Suarez had called him. Is it not your right to do this?
This is a very messy situation and if not for the tribal nature of football, all Chelsea fans would agree it was highly unlikely anything untoward took place on Sunday, however, that does not rule out the possibility of it happening. Without all the evidence available, it is still perfectly reasonable to form an opinion based on probability, but you're on dangerous ground to give 100% of your support. Look where Kenny Dalglish ended up!
After the Terry and Ferdinand case took a year to resolve, thanks to the unnecessary intervention of the CPS, hopefully this latest racist allegation is resolved more promptly and, even more importantly, that Clattenburg is innocent. If Clattenburg was to be found guilty, not only would it have a damaging impact on the game, but on the reputations of those who have backed him.